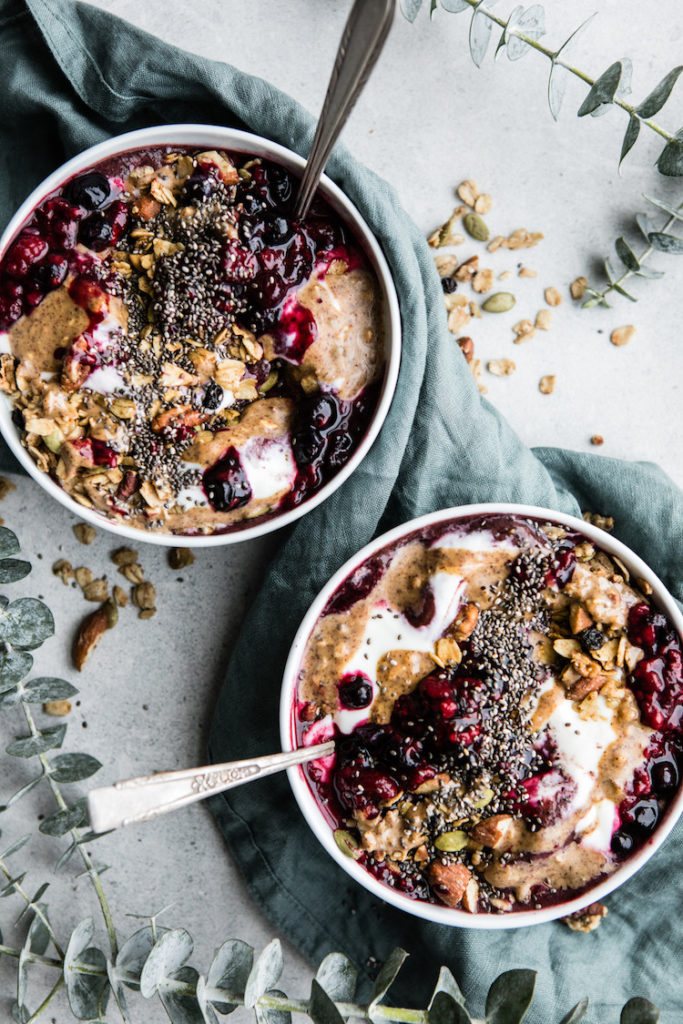 January is quickly coming to a close which means it's a pretty good time to check in with those New Year resolutions. It's only been 4 weeks but those commitments might just feel like a lifetime ago! Not to worry, we have some help from a friend.
The restaurants and shops that have transformed the York and Front Street Promenades in the Station will soon be adding another to their mix. We are so excited that in the next few weeks, Greenhouse Juice will be joining their ranks! We can't say enough good things about our go-to juice guru and the transformation-themed resolutions that they help us keep. They let us support local businesses for example; their juice is cold pressed daily, right in Toronto. Our commitment to going green is helped because they bottle in reusable glass. And of course, they are here to help with any desired body transformations with their healthy and delicious concoctions.
With Transformation the theme of the month, and needing to bring some excitement back to our breakfast routine, we called them up for a suggestion of a delicious morning option. Here is their official recipe for a smoothie bowl that will turn any beige breakfast beautiful!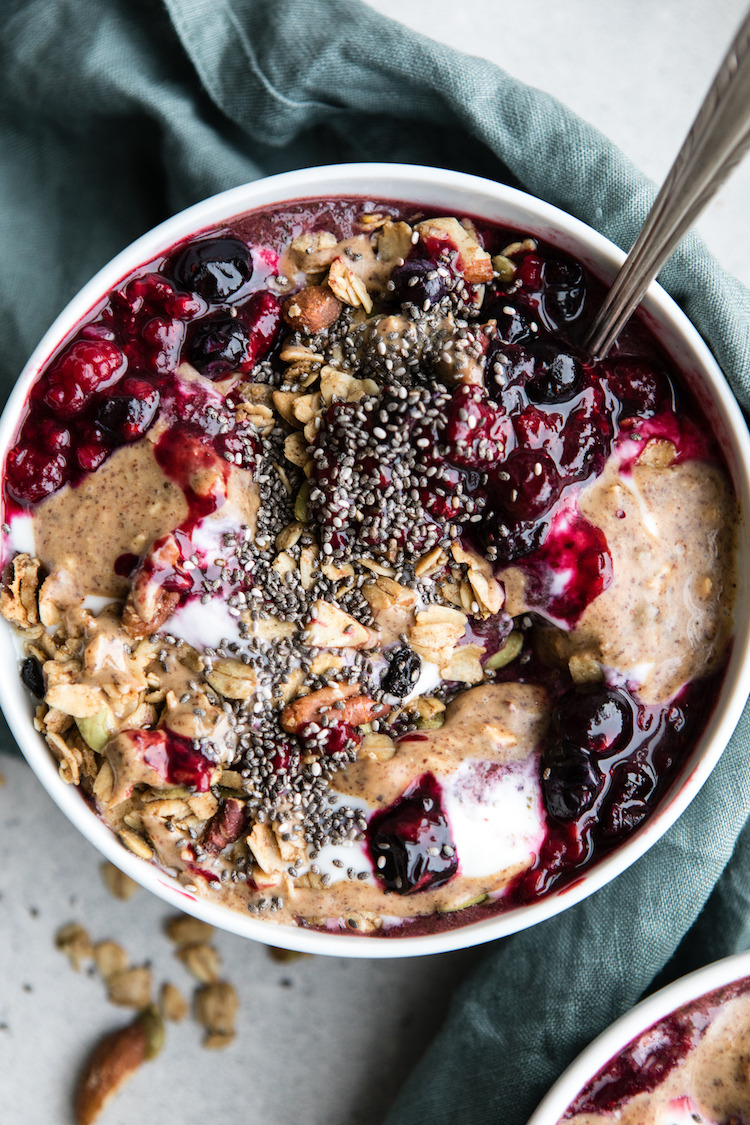 Greenhouse Juice's Fully Loaded Smoothie Bowl 
This bowl isn't just vegan and gluten free, it's Fully Loaded, you see. That means it is overflowing with healthy, nutrient-dense ingredients to keep our engines going all day long. The first step to staying warm is staying full. The only kitchen tool you need is a blender and you'll be good to go.
Makes two large or three medium-sized smoothie bowls.
Ingredients:
Bowl Ingredients:
2 cups Coconut Water
2 cups frozen strawberries
1 cup frozen blueberries
1 cup frozen raspberries
1 frozen banana
Handful of spinach
1 tbsp maple syrup (optional)
Topping  Ingredients:
About ¼ cup coconut yogurt, split for topping
½ tbsp almond butter, mixed then split for topping
1 tsp melted coconut oil, mixed then split for topping
About 1/3 cup frozen berries, warmed and split for topping
Handful of granola, split for topping
Chia seeds, split for topping
Steps:
Pour Coconut Water into your blender, add frozen berries, and blend until well combined. Start on a low speed before cranking your machine to full throttle.
Pour smoothie evenly into two large bowls.
From your topping ingredients, combine your melted coconut oil and almond butter to form a decadent mixture. It will start to harden (and will taste incredible). Divide this evenly into both of your smoothie bowls. Add coconut yogurt, warmed frozen berries, granola, chia seeds, and any additional garnish to each bowl with whatever design flare you'd like. Grab two spoons, and commence with breakfast!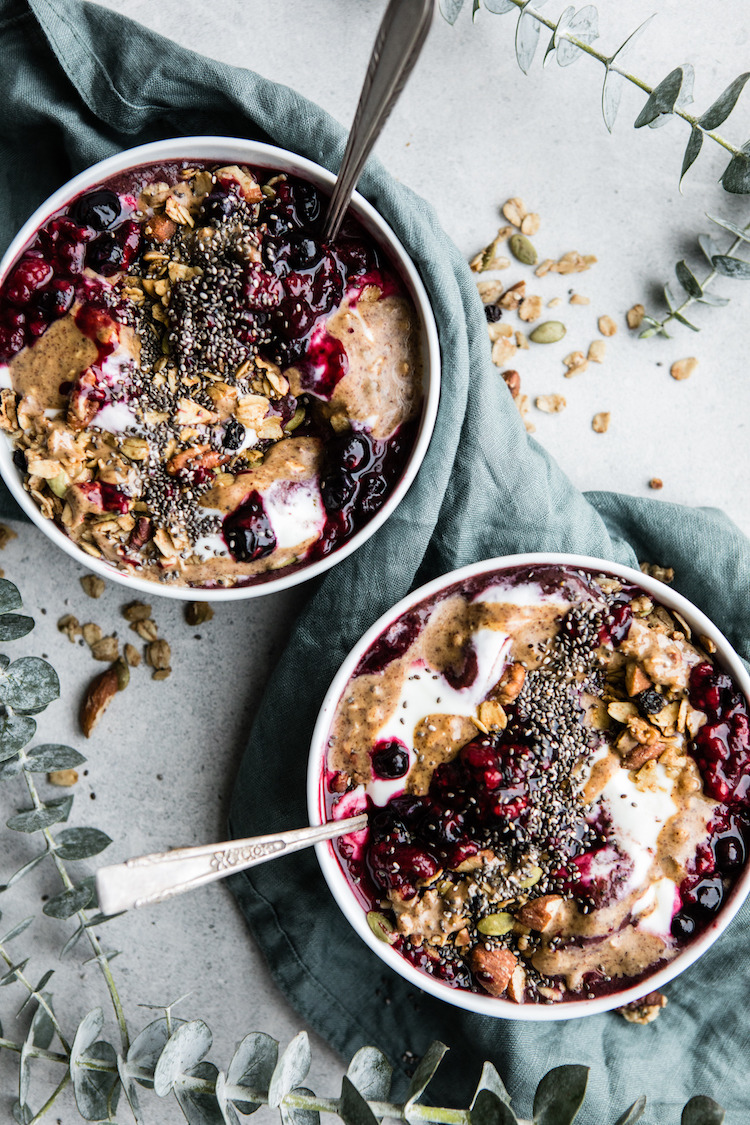 Recipe and photography courtesy of Elena Mari and Nathan Legiehn for Greenhouse Juice. Enjoy your Greenhouse bowls and be sure to find them in the Front Street Promenade in a few weeks!