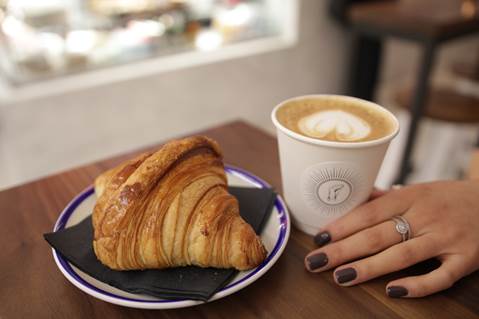 For so many of us, our morning is comprised of rituals and a commute. Union is a transit hub through which over 300 000 people flow daily – many in the morning, on their way to work. So we thought we talk about mornings: what routines we love and how to make your early start even better (hint: it involves Amano's freshly baked croissants!)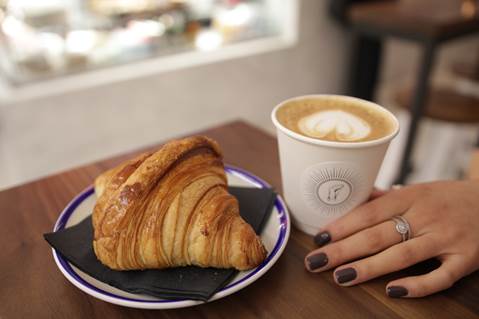 At Amano, the Italian espresso machine whirs to life at 6:30am welcoming commuters into the café where the full scope of caffeinated beverages are prepared on the Italian espresso machine. Chefs pull freshly baked croissants and pastry out of the ovens (at this hour, they are already kneading dough for the day's homemade pasta dishes) which provides a sweet accompaniment to our morning Flat White coffee.
As we place that morning coffee order at the counter with a barista, Jenevieve Narbay, Amano's Manager wanders over to say hello and gets quizzed on her morning routines:
Union: Your go-to coffee order?
Jenevieve: Actually, I prefer to have the Flower Jasmine Green Tea with honey, leaving room for a few ice cubes.
Union: Ice cubes before coat season is over, bold! What about your morning routine?
Jenevieve: It's a great workout followed by a steam that gets my body going and then relaxes my mind to have a clear and focused start to my day. Not to mention it's great for the skin!
Union: Ah, beauty secrets. And how long is your morning commute? How do you spend it?
Jenevieve: Five days a week the commute starts at the TTC's Finch subway station ending at Union. I always sit in the second car from the front of the train which conveniently lets me off right at the stairs near the exit to the station, which also happens to be the furthest west and the closest entrance to the Union concourse. The commute allows me to listen to some of my favourite books on Audible and to plan my day ahead.
Second car from the front, we love that – seasoned commuters always have their routines and strategies down pat! As we wish Jenevieve a good morning, we check in with another morning maestro, Amano's Executive Chef Michael Angeloni.
Chef Michael: My morning pick-me-up routine is wake up, brew a pot of coffee, get in my office and check some emails, shower and get to one of our restaurants if I don't have any early morning meetings.
Union: Straight to business, huh? How about your morning coffee order?
Chef Michael: Black. Always. I take my coffee black.
Union: Where does your morning commute originate from?
Chef Michael: I live in the west end of Toronto in the Roncesvalles neighbourhood. I usually drive in as I am often having to drive around later in the day. However, I also often take the TTC in; Keele station is at the top of my street and Union station is so convenient to transit into.
With coffee now in hand, we say bye to Chef and head into the office where our first meeting of the day is with two members of our talented Union team: Jessica Lemire who is the Manager of Marketing Activations and Alexa Polenz, our Programming and Special Event Coordinator.
Union: Ladies, we're talking morning rituals. What's your coffee order?
Alexa: None! I stop by Amano for a fresh squeezed Orange Juice on my way into the office.
Jessica: And I usually make a fruit smoothie at home. Blueberries, strawberries, etc. I'll even add some turmeric (which is a great source of antioxidants).
Union: How about morning routines?
Jessica: It's making the smoothie with rock music playing in the background! A little AC/DC, some Guns and Roses. Bowie when the mood strikes…
Alexa: I have the TV playing in the background as I get ready. And it's almost always playing Friends, a classic.
Union: And what does your morning commute to work look like?
Alexa: The TTC from St. Clair west – a 20min ride into the station (which usually ends with a stop for an Amano croissant on the way up to the office).
Jessica: I take the GO train from Mimico, it's 12 minutes' total.
By this time, our coffee has been drunk, our croissant happily consumed and we're ready to start our work day in earnest. We hope your mornings are as delicious as ours has been (if it's not, we seriously suggest adding an Amano café stop to your morning commute!)
Whether you're commuting through Union Station or just looking for a morning pick me up, we thought we'd conclude with some tunes inspired by our conversations. We've got something for the rocker, based on Jessica's inspiration:
Something upbeat to play in a morning workout, like Jenevieve:
A 90's classic to accompany your mornings, like Alexa:
And a fabulous, timelessly mellow tune to bop along to from behind the wheel. If you're starting your day with a drive into work as Chef Michael does.
Have a great morning!