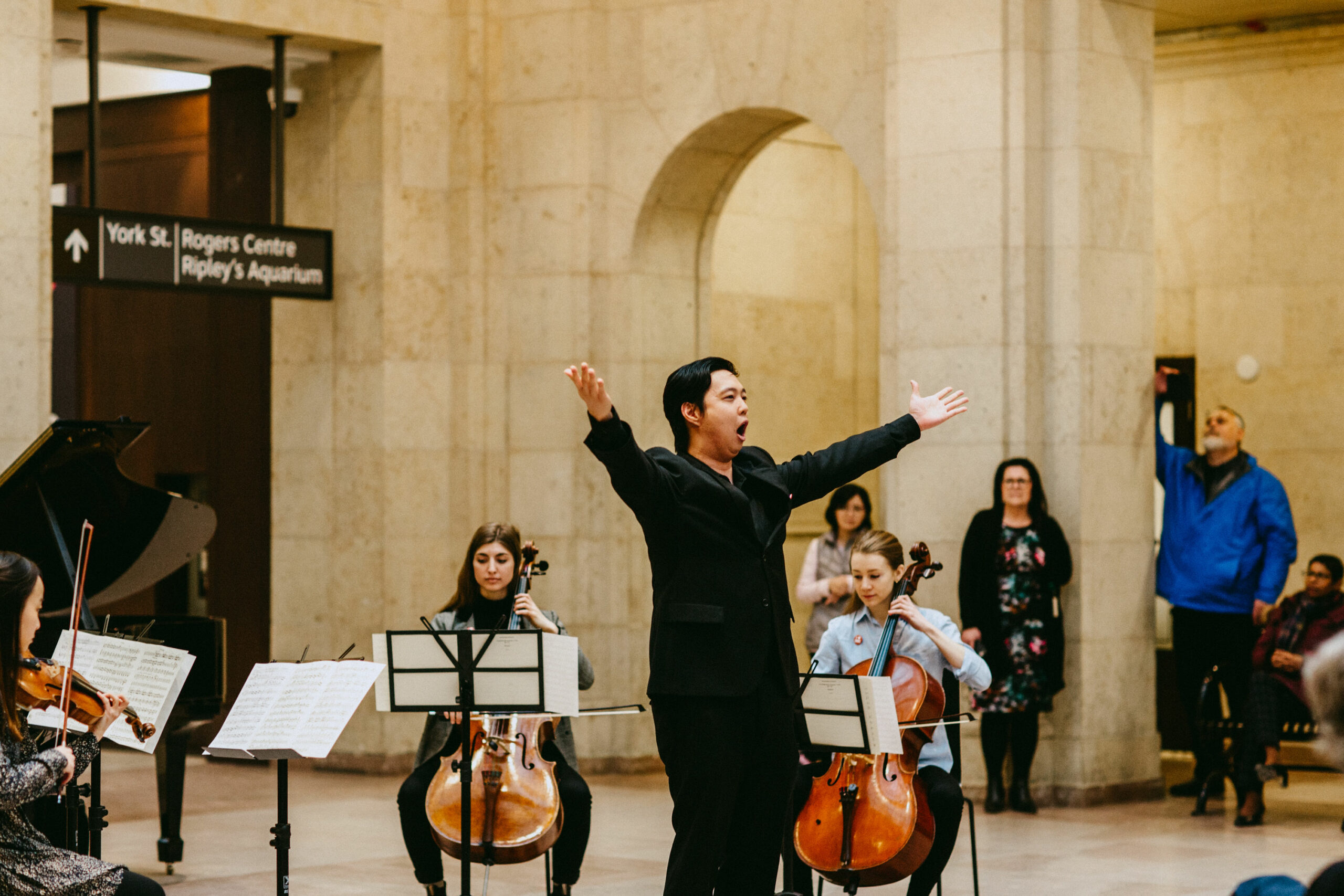 Opera Express: Holiday Edition
After three long years, one of our most beloved partnerships with the Canadian Opera Company returns for a holiday concert in the Opera Express Series. Get into the festive spirit with members of the COC Teaching Artist roster performing ​some of their favorite holiday classics through movement, visual art and song. Join us on Dec 16th from 5:30 – 6:30 pm at the West Wing.
This event is part of the Union Winter-presented by TD arts and cultural programming.
To learn more about the Canadian Opera Company click here.
About the teaching artists:
Karine White
Praised for her stage presence, Montreal born Soprano Karine White is passionate about the performing arts. An active and versatile artist, she enjoys both performing and teaching voice, dance and drama. Some favourite opera credits include: Adele in Die Fledermaus, Lady with a Hand Mirror in Postcard from Morocco, Josephine in HMS Pinafore and also Witch and Second Lady in Dido and Aeneas, for which she has be nominated for a Dora Mavour Moore Award. When not on stage or in rehearsal, she can be found teaching Movement Classes at the University of Toronto, collaborating with the Canadian Opera Company as a Teaching Artist and pursuing a Masters of Teaching at the Ontario Institute for Studies in Education (OISE, University of Toronto).
Ross Mortimer
Ross Mortimer is a tenor based out of Toronto. He has been a member of the COC chorus since 2019, the same year he completed an Artist Diploma at the Glenn Gould School of Music. Ross completed his Bachelors of Music at Western University under the tutelage of Christiane Riel and Torin Chiles. His singing has brought him across Canada in leading roles and workshops, and also to Italy with performances of Count Belfiore in Lucca, Italy, in Mozart's La Finta Giardiniera. He is excited to be returning to the Conservatory this year as their Vocal Scholar, and will be performing the leading role of Bill in Jonathan Dove's Flight in March 2023 at Koerner Hall. As a lover of art song, he will also be performing recitals this season in Toronto and his hometown of London.
Annemarie Cabri 
Annemarie Cabri is a Canadian performer, choreographer, and Teaching Artist. She is best known for her ability to create movement stories in the non-dance-trained individual, allowing them to nurture the power and beauty of self-expression through dance. Upon graduating from the National Ballet School of Canada, Annemarie danced professionally in a vast repertoire of classical ballet and contemporary works. Tkaronto (Toronto, Canada) has been Annemarie's base since 2010 as Senior Teaching Artist for both the National Ballet of Canada and the Canadian Opera Company and teachers Silver Swans ballet for older adults. Her passion, curiosity for the individual, and attention to detail is cultivated from many decades immersed in this artform that today, still excites her.
Isabella Fassler 
Known for her playful textures, bright palette, and captivating concepts, Isabella Fessler is an interdisciplinary artist based in Toronto who is passionate about exploring the different ways art can transform our perceptions. Her discipline is within illustration and design, mainly working as a freelance artist for publishers and editorial. Some of her clients include the New York Times, The Walrus, Demetres, Shopify, Reader's Digest, and she is currently working on a whimsical picture book with Kids Can Press. Recently, she has completed a mural for the City of Toronto and is hoping to continue to create art that can be more accessible to the general public. She believes that everyone has the power to create, and truly believes in it's importance in our communities and it its power to create positive change in our society.