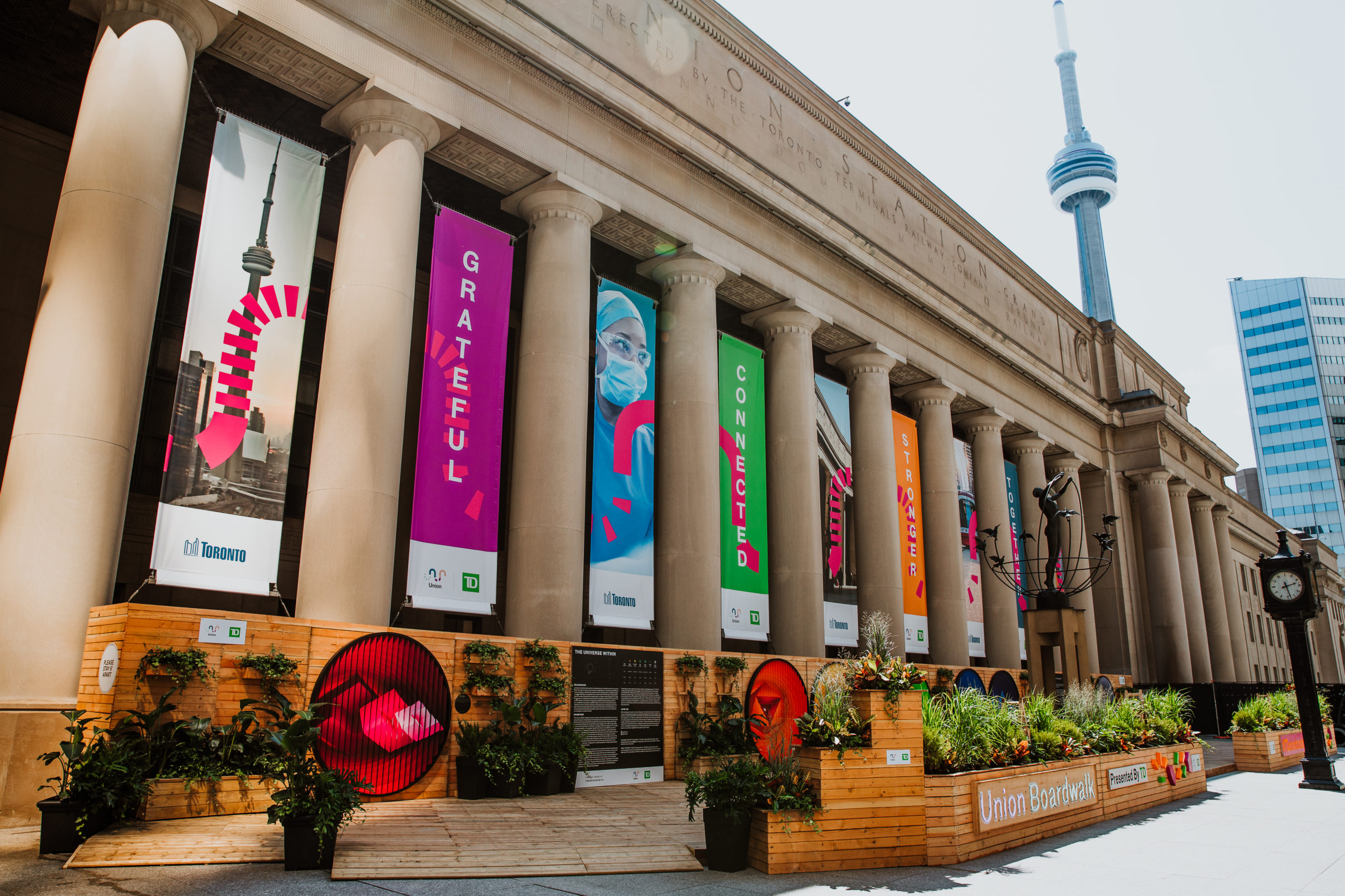 Union Boardwalk—Presented by TD
Exhibit Extended until October 16th!
Union is committed to reflecting the diversity of Canadians through our multidisciplinary programming vision. We celebrate creativity, diversity and inclusion through our free arts and cultural events that showcase the best of Toronto.
Union Boardwalk presented by TD was created to animate this beautiful public space with art to inspire connection and instill a sense of gratitude.  Arts and culture play an important role in our community and we are proud to present the "The Universe Within" showcasing interdisciplinary Toronto artist Javid Jah, whose practice is inspired by how we can experience traditional interpretations of cosmology through sacred geometry.
It is inspiring to watch the solidarity and resilience of our community as we help one another. So many Torontonians are working tirelessly to protect lives and are stepping up to support their communities. Stronger. Together.  We are grateful for our everyday heroes.
Our hope is that you will walk through this space and connect your senses to art and nature which have always had a way of uplifting our spirits even during the most challenging of times.
TD is proud to support Union Boardwalk through the TD Ready Commitment, which aims to help open doors to a more inclusive and sustainable tomorrow by investing in opportunities that bring people together and strengthen their sense of belonging. Green spaces and the arts have the power to transform feelings of separation and isolation into ones of inclusion and belonging and we hope this special space will help you stay connected during these exceptional circumstances.
Open daily, visitors are invited to walk through Union Boardwalk – Presented by TD, to enjoy a moment of reflection, and share their moments of inspiration using #TDUnionBoardwalk #InspiredbyToronto, and tagging @torontounion.
To ensure visitors are practicing safe, social distancing protocols, Union Station staff, and ground markers will be on-site throughout the installation.