Jul 20 2023
- Dec 31 2023
All Day
Front Street Promenade Vitrine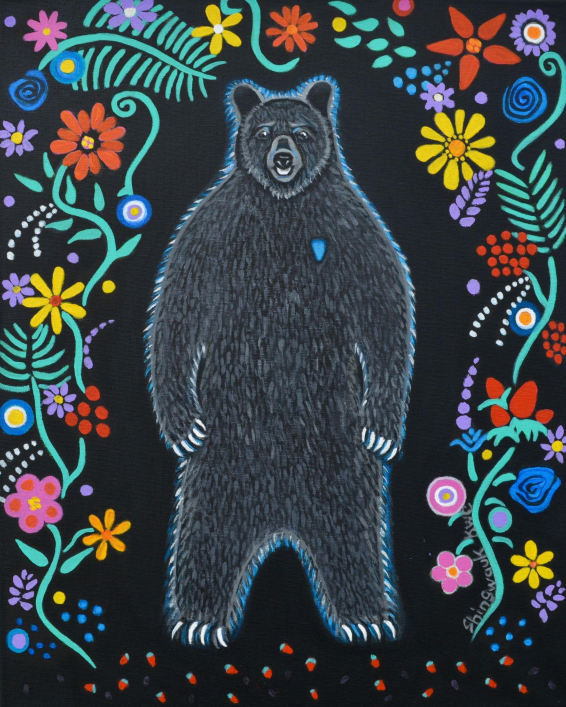 Union proudly presents:
2023 Artist Spotlight: Janice Toulouse
Toronto is home to many talented artists, and Union and City of Toronto are committed to the exhibition of public art to enrich communities and shine a spotlight on local artists. Frequently, open calls for submissions are held for public art projects, and we are constantly enthralled by the breadth and depth of work submitted, making it challenging to select only one finalist. This project was born out of a love for Janice's art, and although she was not selected for the Unionale project, the programming team was committed to finding a home for her pieces here in the Front Street promenade. Her work will rotate on a quarterly basis for the duration of 2023.
Currently on display: Makadeyaa Makwa
Makadeyaa Makwa, acrylic on canvas 16 x 20 inches 2020. Black Bear surrounded by flowers and strawberries. This painting originated from a dream I had laying down strawberries on Mother Earth for the bears, referred to as heart berries. When I lived out west in a fishing village, a back bear came to stand under my studio window for a long time. I believe he may have been a spirit bear, as there were only grizzly bears in this forest. I felt protected by this back bear who came to bring me home.
Janice Toulouse
 Janice Toulouse is a senior Ojibwe artist, a member of Garden River First Nation, born and raised in Serpent River and Toronto. She lives in Sault Ste Marie, Ontario. She was the first in history Indigenous graduate and earned a Master of Fine Arts from Concordia University in Montreal in 1985. She taught Painting and Indigenous Art History at Emily Carr University in Vancouver for twenty years until retiring in 2017. Her art practice is to share her life as a Anishinaabe Kwe painter and storyteller. Her artworks investigate land rights and the respect of nature and traditional spiritual beliefs. She pursues her artistic work to create paintings and installations that honor her Anishinaabe ancestry. Her work is in public collections across Canada. She has exhibited internationally, in Canada, U.S.A, and Europe. Toulouse is an awards recipient, including: 2019 Ontario
Arts Council Indigenous Arts Award, 2017 Canada 150 Hnatyshyn Art Award, and 2009 Canada Council of the Arts, International Travel Grant.
About Union
Union is committed to reflecting the diversity of Canadians in all our programs and operations. Our programming vision encourages and celebrates creativity, diversity, inclusion and accessibility. Our goal is to strengthen the connection between public art and civic engagement ultimately create connectedness amongst our communities.
About ArtworxTO
The City of Toronto's new 10-Year of Public Art Strategy was launched by ArtworxTO: Toronto's Year of Public Art 2021-2022, signaling Toronto's renewed commitment to public art. The program celebrates Toronto's incredible collection of public art and the artists behind it, supports artists and art projects that reflect Toronto's diversity, and creates more opportunities for the public to engage with art in their everyday lives. Toronto's commitment to this exciting new program underscores a dedication to the arts sector as an essential component of a vibrant city.