Sep 23 2023
- Sep 23 2023
All Day
Union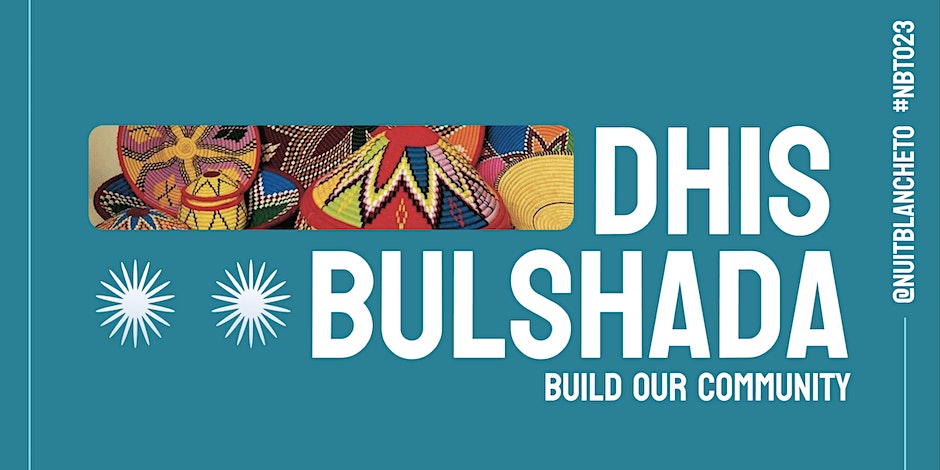 Soo dhowow! The Somali Centre for Culture and Recreation (SCCR) presents :
"Dhis Bulshada" is a unique art exhibit that promises to transport audiences on a journey through time, exploring the profound influence of Somali language, culture, art, and music on the vibrant city of Toronto. This exhibit is not just about showcasing ancient artifacts from Somalia dating back 200 years, but also highlighting present-day artistry currently thriving in Toronto. Visitors will have the opportunity to experience an immersive display that seamlessly blends past and present, allowing them to appreciate the rich history and contemporary influence of Somali culture in the city. From traditional clothing to modern-day paintings, photographs, and music, the exhibit offers something for everyone. The concept behind "Dhis Bulshada" is to showcase the intersection of Somali and Toronto cultures, using art as the medium. Audiences can expect stunning visuals, including intricate designs, bold colours, and evocative soundscapes that transport them to another world. Whether you're a lover of art, history, or culture, this exhibit is a must-see for anyone looking to gain a deeper understanding of the role that Somali culture has played in shaping Toronto.
The Artists:
The "Building Community: Dhis Bulshada" exhibit proudly showcases the artwork of a diverse group of Somali-Canadian artists. Each artist brings their unique perspective, experiences, and creative expressions to the exhibit. With deep Somali roots and a strong connection to Canada, these artists embody the intersection of multiple identities, bridging the gaps between their Somali heritage and their experiences as Canadian citizens. Through their artwork, they explore themes of identity, belonging, resilience, and the intricate journey of navigating multiculturalism's challenges and triumphs.
Presented as part of Nuit Blanche at Union Station – September 23, 7pm-7am
Plan your night at www.toronto.ca/nbto