Sep 30 2023
- Sep 30 2023
12:00 pm - 4:00 pm
West Wing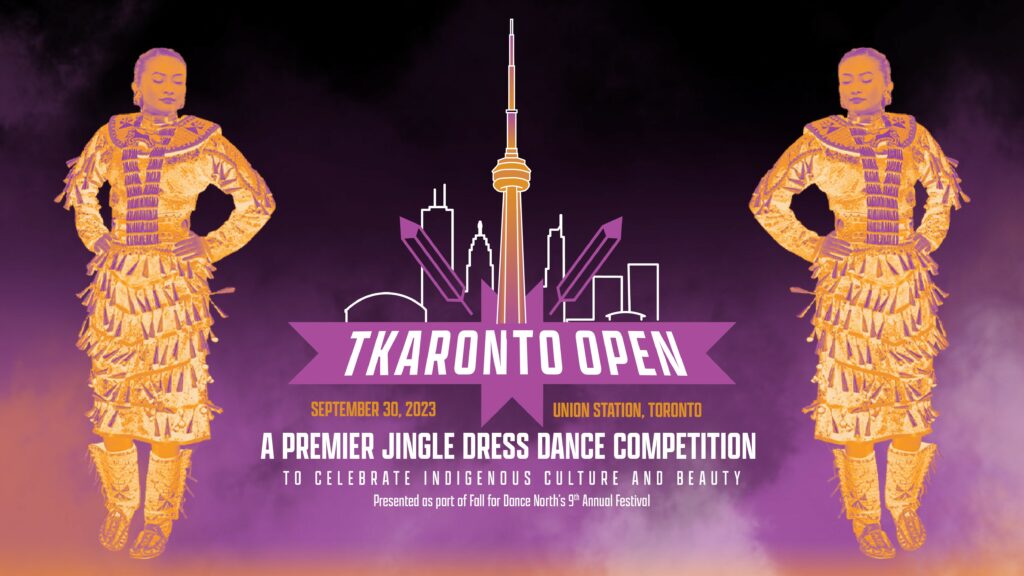 A special gathering to celebrate Indigenous culture and present the highest level of showmanship among local Indigenous dancers through performance and competition. Indigenous music and dance have the power to heal you in ways you didn't know you needed.
Tkaronto Open is the newest addition to the Fall for Dance roster. An Indigenous dance competition conceived and co-produced by award winning Indigenous dancer Freddy Gipp (Indigenous Liberation, FFDN 2022). Gather with us at Union Station's West Wing to enjoy a tournament style competition of Indigenous traditional dance, featuring Jingle Dress Dance. This free event takes place on National Day for Truth and Reconciliation. Contestant fee is $15 and all proceeds will be donated to Native Women's Resource Centre of Toronto.
For CONTESTANTS
Doors will open at 10:00 AM and the competition will start at 12:00 PM.
For the GENERAL PUBLIC
This is a free event at Union Station's West Wing, with limited seating.
Arrive anytime after 12:00 PM
Approximate event length is 3-4 hours
Tkaronto Open is an opportunity for our Toronto community to partake in an Indigenous tradition that has been in practice for over 100 years. Indigenous dance competitions, such as Tkaronto Open, provide a platform that supports dancers, singers and artisan craft-makers and their desire to continue the cultural expression, resiliency and longevity of Indigenous People's way of life.

Details:
WHEN & WHERE
Union Station's West Wing
65 Front Street West 
Saturday, Sep 30 (National Day for Truth & Reconciliation)
Starting from 12:00 PM
FREE TO ATTEND EVENT
Accessible seating is available, with additional seating on a first come, first serve basis

Contestant Registration $15 (+ HST and fees)
DANCER REGISTRATION LINK
Approximate running time:
Between 3-4 hours
TKARONTO OPEN TEAM:
Producer: Freddy Gipp (Lawrence, KS)
Associate Producer: Thunder Jack (Ontario)
Arena Director: Acosia Red Elk (Pendleton, OR)
Master of Ceremony: Ruben Little Head Sr. (Lawrence, KS)
Host Drum: Smoke Trail Singers (Ontario)
Community Partner: Native Women's Resource Centre of Toronto
Graphic Design: Kehiw Frazier
Learn more on Fall For Dance North's website here.