Oct 19 2023
- Oct 19 2023
5:00 pm - 8:30 pm
West Wing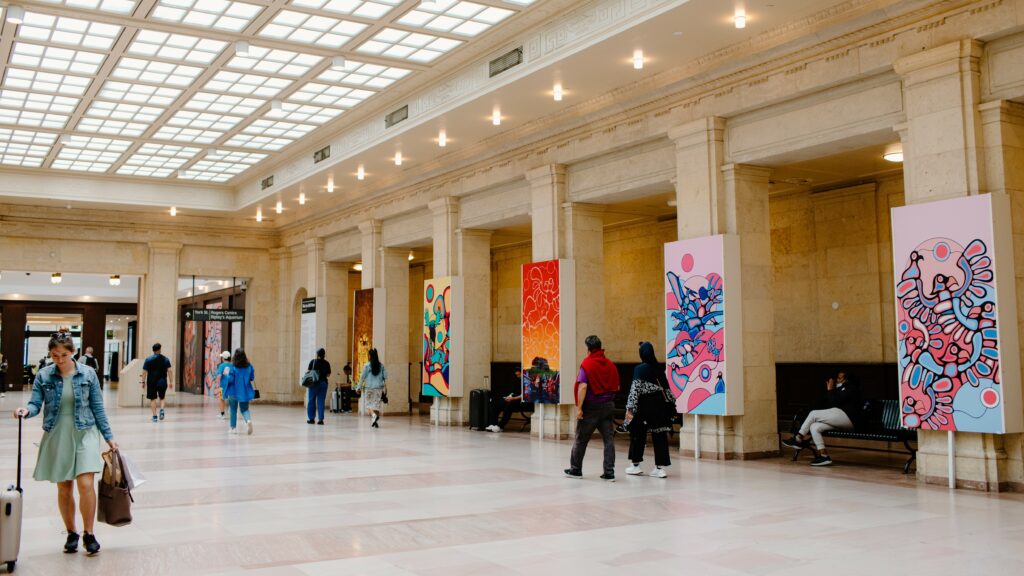 October 17th-22nd is Secret Path Week, a national movement commemorating the legacies of Gord Downie and Charlie Wenjack.
At Union, we believe in the importance of sharing stories with the goals of spreading awareness, sparking conversation, and working collectively to build a better future. This vision is shared with Union's long-time partner, the Gord Downie & Chanie Wenjack Fund, established through Gord Downie's journey toward reconciliation. Moved by the tragic story of Chanie Wenjack, Gord wrote haunting poems which evolved into an album, graphic novel, and animated film entitled "The Secret Path".
In homage to Chanie Wenjack, a new piece by Anishinaabe woodlands artist Blake Angeconeb will be unveiled in the West Wing as an expansion to the current exhibit "We Are Still Here", sponsored by TD. This exhibit hopes to help build awareness, educate, and connect all peoples in Canada on our shared path toward reconciliation. Reconciliation is not easily defined. It is not linear and does not have a clear endpoint. Reconciliation is a continuous process and a journey that leads to improved understanding for all communities.
Make sure to mark your calendars as on October 19th from 4:45pm-8pm, Union will be hosting a panel talk with  artist Blake Angeconeb, Patrick Downie, and DWF President and CEO Sarah Midanik to talk about what it means to be an Indigenous artist today and what we can all do to support and act on reconciliation.  Additionally, the panel talk will be augmented by TD Music performances Logan Staats and DJ Shub.
We hope you take a moment to explore artist Blake Angeconeb's stunning work and learn about Chanie's story. As you reflect on the history of residential schools, please think about how you can answer Gord's call to "Do Something".
Schedule:
4:45pm – 5:30pm – Logan Staats performance
5:30-6:00pm – Panel talk – Patrick, Sarah, Blake
6:00pm- 8:30pm – DJ Shub
About Union
Union is committed to reflecting the diversity of Canadians in all our programs and operations. Our programming vision celebrates creativity, diversity, inclusion, and accessibility. Our goal is to strengthen the connection between public art and civic engagement and ultimately create connectedness amongst our communities.
About the Gord Downie & Chanie Wenjack Fund
Inspired by Chanie's story and Gord's call to build a better Canada, the Gord Downie & Chanie Wenjack Fund aims to build cultural understanding and create a path toward reconciliation between Indigenous and non-Indigenous peoples. Our goal is to improve the lives of Indigenous people by building awareness, education, and connections between all peoples in Canada. Learn more at downiewenjack.ca
About TD
TD is committed to growing our relationships with Indigenous Peoples. We recognize there is more work to be done on our collective journey towards Truth and Reconciliation and we will continue to support initiatives that promote early learning, enhance financial education, support equitable health outcomes and celebrate Indigenous culture. Learn more: td.com/indigenous