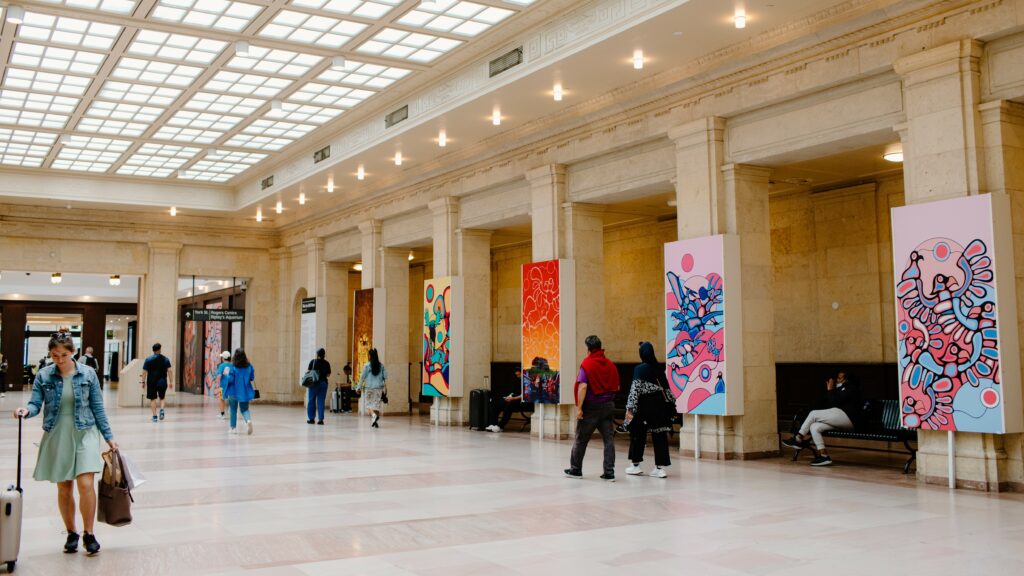 Union and the Gord Downie & Chanie Wenjack Fund present
We Are Still Here
sponsored by TD
This exhibition is a collective of vibrant works of colour and imagery by artist Blake Angeconeb. Each work has different meaning to the artist and Angeconeb deliberately deconstructs and re-contextualizes Western and Indigenous art with his own imagination and story telling. This art project is an expansion of Union's long-term partnership with the Gord Downie & Chanie Wenjack Fund with support from TD Bank, which focuses on building awareness, education, and connections betweens all peoples in Canada and our shared path towards reconcilliation.
In The West Wing:
"Mino Bimaadiziwin" – In Anishinaabemowin "Mino Bimaadiziwin" means to live a good life. It is not only a saying, it is a way of conductions oneself. In my practice, I strive to put out good energy through artistic interpretations that evoke numour, observation, and reflection. As we walk our life paths, we note and experience moments, people, events and issues – as individuals and as a community. Many of these experiences may have passed some while other lived through them profoundly. A reiteration of that event in the style of woodlands art may cause one to view and experience it differently. The art communicates across all walks of life to facilitate common ground for us to relate to one another in a good way. As we find our footing in our paths, it is with hope that this collection paves way for deeper connections, more colourful conversations, and a new outlook on how we live "Mino Bimaadiziwin".
In the Oak Room:
"Eighth Fire" – In Anishinaabe oral history, there is a prophecy that eight fires will be lit by prophets of the Anishinaabe Nation with the final one bringing a new world of peace and love. It is said that this fire is ignited by a leader representing the youth. As such, this room is an homage to the next generation of Indigenous resistance and resiliency, our children and youth. In the last three years, we grieved the uncovering of unmarked graves and children lost to the genocide of residential schools. While my initial impulse was to channel anger into my art, I discovered solace and healing by creating artwork that uplifts and embodies the vitality and strength of our young people. "We Are Still Here" is a reminder that despite the attempts to "Kill The Indian in the Child", our culture persists and thrives. Our children continue to wear the traditional regalia, celebrate, and dance in the way that was at one point illegal. "Sharing" is the transmission of sacred teachings through story telling from our traditional knowledge keepers to our children and youth, a continuum that starts from birth. "A Child's Imagination" is dedicated to my son and the future I envision for him. I want him to understand that our culture is not static – it transcends time and is also a reflection of modern life as we experience it. During these crucial times for our children, young people need to feel seen and empowered. Art speaks to them in a universal language that inspires their imagination, gives them hope for the future, and the tools to build a path forward.
About the Artist
Blake Angeconeb is an Anishinaabe woodlands artist who hails from Treaty 3 territory. His first venture into art began 7 years ago during a fun painting session with his younger niece, which has since launched him into a full-time career as a self-taught traditional painter, digital illustrator, and mural artist. Blake is most known for blending the school of woodlands art with pop culture references, which has in turn produced a landscape of works shared and celebrated by Indigenous people across all nations. He aims to create art that evokes a sense of pride and joy in being Anishinaabe. He is part of the Caribou clan and a proud member of Lac Seul First Nation.
About Union
Union is committed to reflecting the diversity of Canadians in all our programs. Our programming vision celebrates creativity, diversity, inclusion and accessibility. Our goal is to strengthen the connection between public art and civic engagement and ultimately create connectedness amongst our communities.
We support innovation and collaborate with artists and cultural organizations throughout the GTA and internationally.  The projects we curate are uplifting, grand scale, impactful, accessible and, above all, foster meaningful thought and emotional dialogue about our collective/shared and individual experiences.  It is our goal to curate meaningful and thoughtful public art projects that animate Union Station.
About the Gord Downie & Chanie Wenjack Fund
Inspired by Chanie's story and Gord's call to build a better Canada, the Gord Downie & Chanie Wenjack Fund aims to build cultural understanding and create a path toward reconciliation between Indigenous and non-Indigenous peoples. Our goal is to improve the lives of Indigenous people by building awareness, education, and connections between all peoples in Canada. Learn more at downiewenjack.ca
About TD
Art can act as a tool of social impact, creating opportunities for meaningful conversations about the past, present and future. TD has been supporting Artists from Indigenous communities since 1967 and is committed to amplifying diverse voices through accessible and inclusive art experiences that leverage the power of art as a means to learn about the world around us.