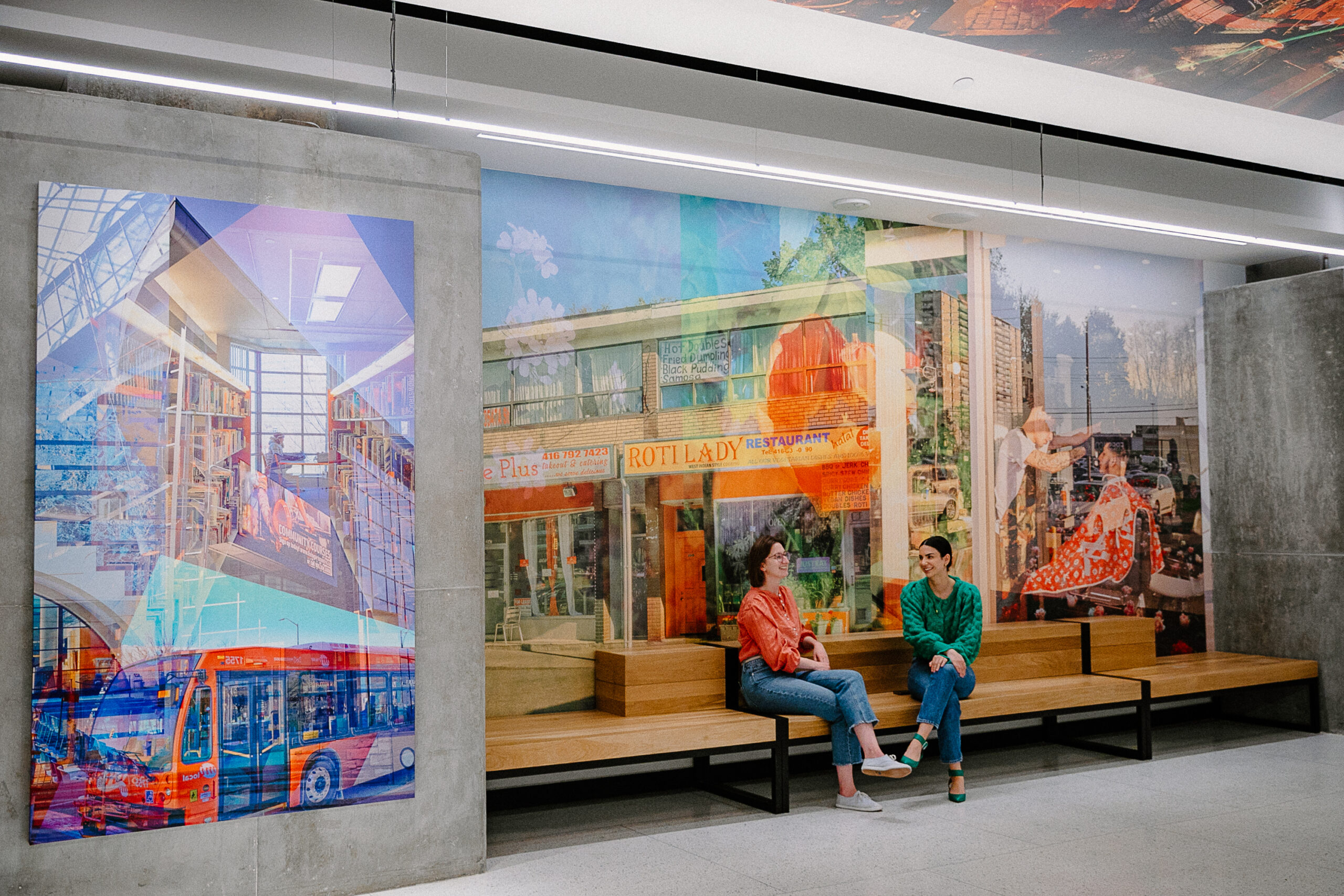 Unionnale, sponsored by TD
Unionnale
Sponsored by TD
As part of ArtworxTO
You say ale, we say alley. Inspired by the streets and alleys of Toronto decked with art, Unionnale is a space envisioned to animate the south corridor of the Union Market with art by local artists. The space was created as a special art "alley" which provides visual storytelling and interest through a fun and creative artistic moment in the heart of Union Station. As part of Union's continuing contemporary programming, the public art in Unionnale will rotate every two years, with artists chosen through a juried selection process. Unionnale is part of ArtworxTO's public art initiative.
Presenting Flux by Esmond Lee

Flux is an exploration of social relationships created from everyday moments, spaces, and materials—found within Toronto and beyond, to reveal a fantastical, yet familiar world. From quiet industrial sites to bustling retail storefronts, the qualities of urban, suburban, and rural spaces are blended together as equally deserving of dignity and stewardship. Places spatially fixed to specific cultural and social locations are untethered to form new, imaginative landscapes free of temporal and physical boundedness. For each visitor, Flux offers two distinct views: an omniscient seeing of the whole, and an intimate viewing of many details unfolding through time and space. Within the near-infinite possibilities, viewers are encouraged to consider the interconnections through the dissolution of specific scales and perspectives. This unique format challenges the political and economic boundaries that produce ongoing tensions, dividing our landscape into abstract, disparate spaces. Flux brings together places conventionally understood as fragments, to reveal their commonalities, negotiations, and entanglement, asking: how do seemingly far-reaching places operate together on a continuum of complex, interwoven landscapes? Whether for leisure, opportunity, or by force: the movement of people through our everyday spaces shape and inform space, just as space shapes and informs the movement of people in a state of continuous flux.
About the Artist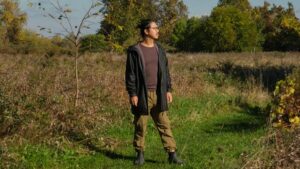 Esmond Lee is an artist, researcher, and architect based in Scarborough, Toronto. He holds a Master of Architecture and currently pursuing a Doctorate in Critical Human Geography. Drawing from professional, academic, and personal backgrounds, Lee examines migration, settlement, identity, belonging, and nuanced cultural and political borders in the built environment. His recent public artworks include installations for Nuit Blanche Toronto (2019, 2022) and CONTACT Photography Festival, nominated for the 2022 Heritage Toronto Award in Public History. Lee is currently creating two photobooks about Scarborough: Below the City, recognized by an honourable mention in the 2020 Burtynsky Grant, and a community co-creation as the Toronto Public Library Artist-in-Residence at Woodside Square.
About Union
Union is committed to reflecting the diversity of Canadians in all our programs and operations. Our programming vision encourages and celebrates creativity, diversity, inclusion and accessibility. Our goal is to strengthen the connection between public art and civic engagement ultimately striving to create connectedness amongst our communities.
About ArtworxTO
The City of Toronto's new 10-Year of Public Art Strategy was launched by ArtworxTO: Toronto's Year of Public Art 2021-2022, signaling Toronto's renewed commitment to public art. The program celebrates Toronto's incredible collection of public art and the artists behind it, supports artists and art projects that reflect Toronto's diversity, and creates more opportunities for the public to engage with art in their everyday lives. Toronto's commitment to this exciting new program underscores a dedication to the arts sector as an essential component of a vibrant city.
About TD
Through the TD Ready Commitment, the Bank's corporate citizenship platform, TD supports Arts and Culture experiences and initiatives that foster shared connections while amplifying diverse voices and perspectives.