Art fills our lives with colour, stories and emotion, which is why Union is proud to present year-round rotation of public art- including exhibits and pieces throughout the station. Next time you are at Union, take a walk and tour all the amazing pieces on display!
Unionnale, sponsored by TD
Presenting FLUX by Esmond Lee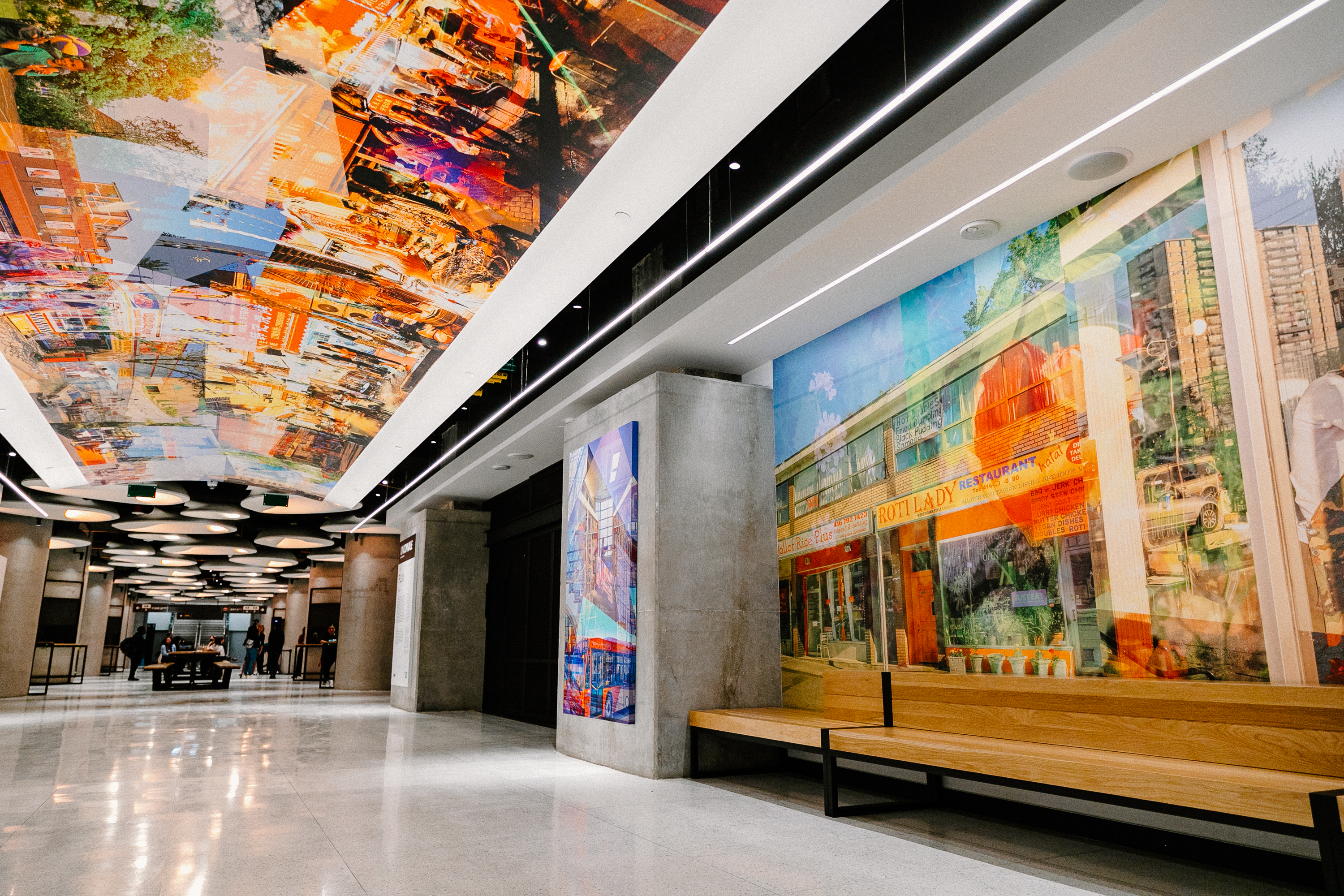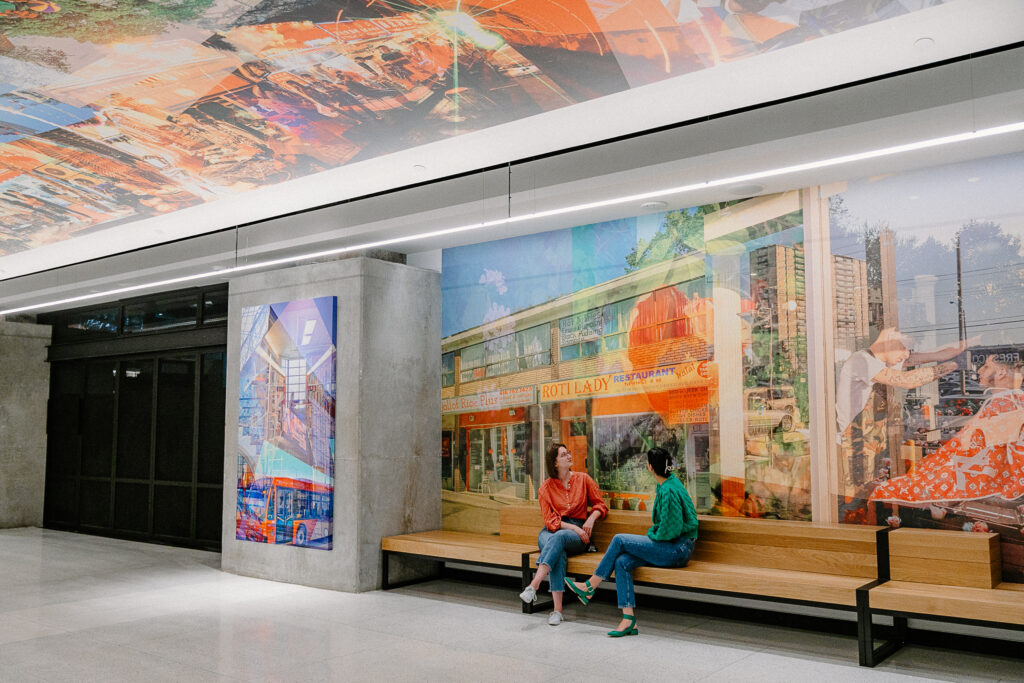 You say ale, we say alley. Inspired by the streets and alleys of Toronto decked with art, Unionnale is a space envisioned to animate the south corridor of the Union Market with art by local artists. The space was created as a special art "alley" which provides visual storytelling and interest through a fun and creative artistic moment in the heart of Union Station. As part of Union's continuing contemporary programming, the public art in Unionnale will rotate every two years, with artists chosen through a juried selection process. Unionnale is part of ArtworxTO's public art initiative.
This piece can be found in the new Union Market on the lower level
Union and The Gord Downie and Chanie Wenjack Fund present, We Are Still Here, sponsored by TD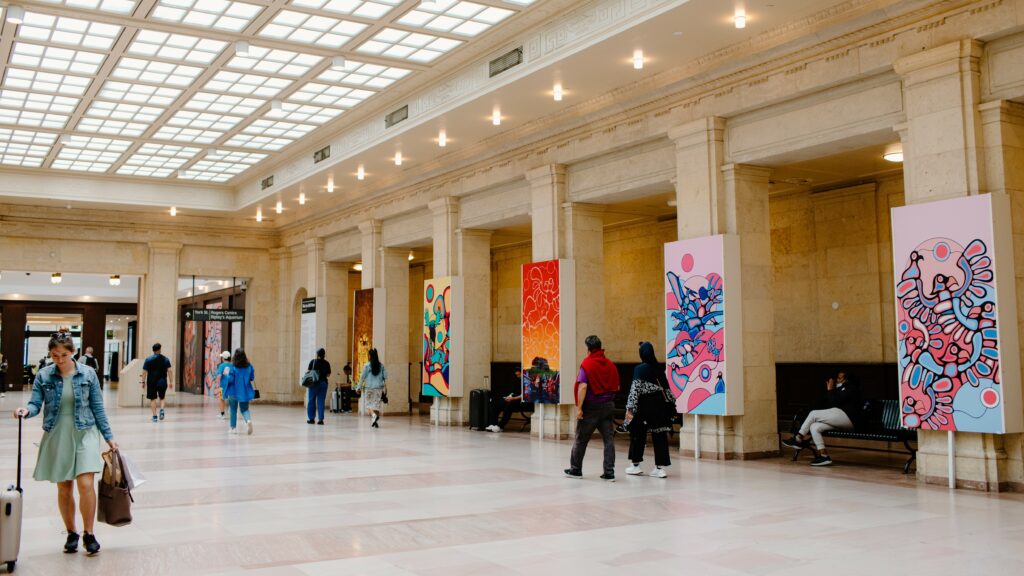 This exhibition is a collective of vibrant works of colour and imagery in Union's West Wing and Oak Room by artist Blake Angeconeb. Each work has different meaning to the artist and Angeconeb deliberately deconstructs and re-contextualizes Western and Indigenous art with his own imagination and story telling.
The art in the West Wing is a collection of works throughout Ageconeb's career centering around the concept of "Mino Bimaadiziwin", meaning to live a good life. In the Oak Room, the artwork is an homage to the next generation of Indigenous resistance and resiliency.
This exhibit can be found in the West Wing and Oak Room on the main level.
Union presents, 2023 Artist Spotlight
Featuring work by Janice Toulouse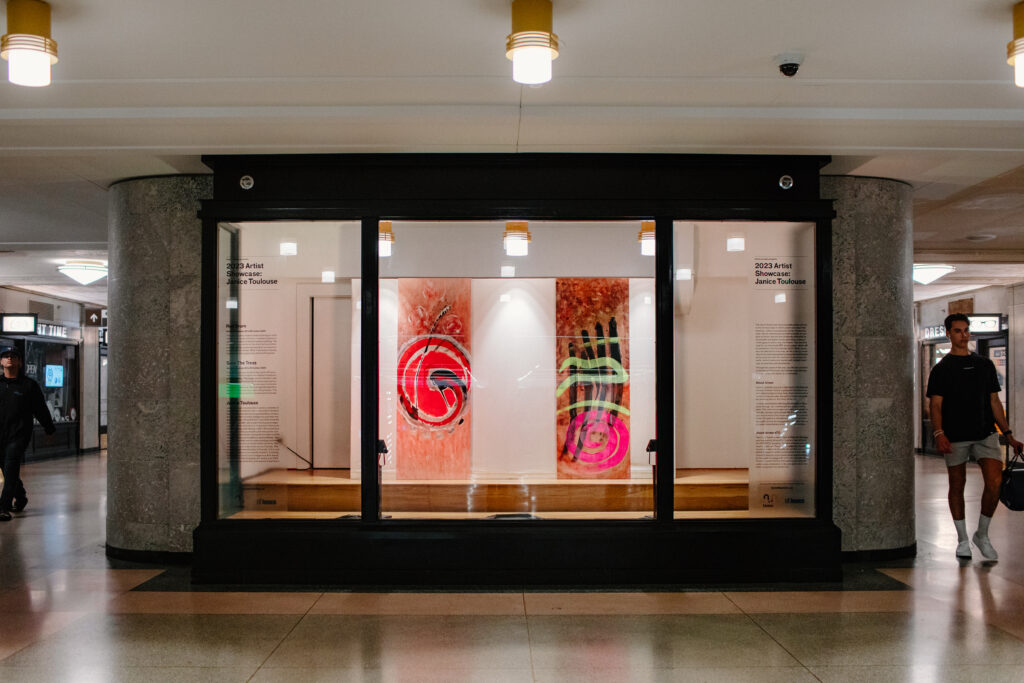 Toronto is home to many talented artists, and Union and City of Toronto are committed to the exhibition of public art to enrich communities and shine a spotlight on local artists. Frequently, open calls for submissions are held for public art projects, and we are constantly enthralled by the breadth and depth of work submitted, making it challenging to select only one finalist. This project was born out of a love for Janice's art, and although she was not selected for the Unionnale project, the programming team was committed to finding a home for her pieces here in the Front Street promenade. Her work will rotate on a quarterly basis for the duration of 2023. Currently on display: Jiimaan.
This piece can be found on display in the Front Street Promenade Vitrine, located one level below the Great Hall.
House of Bâby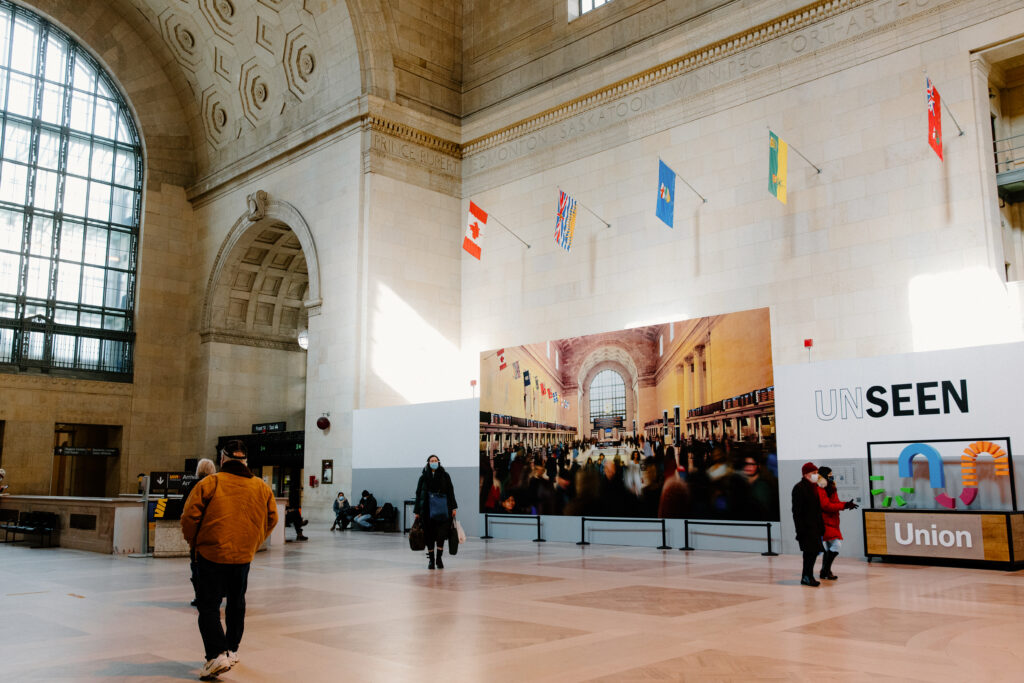 House of Bâby is a 35' lenticular image on display in Union's Great Hall. As the viewer moves, eighteen people come into focus from the blurred crowd. They represent eighteen of the Black and Indigenous people who were enslaved by the Bâby family in Toronto, Windsor and Detroit. Their unpaid labour produced great wealth for the family. This artwork imagines the group in our contemporary moment, no longer constrained by the past as property nor languishing in the obscurity of the archive. The artists, Camal Pirbhai and Camille Turner brought this group to life by representing them in this country's busiest hub. Union Station's majestic architecture symbolizes stability and civic pride but it is the people who are responsible for its strength.
This piece is on display in the Great Hall.
Belonging Is
Temporary mural presented by Luminato, featuring art by Bareket Kezwer
In Maslow's Hierarchy of Needs, social belonging is smack in the middle of the pyramid. We do not thrive without the understanding of how we fit in. And yet, social isolation and the sense of otherness pervade our public life. How can we better be a village to one another? How can we better help one another belong?
Through a series of guided engagements during the Luminato Festival, participants were invited to explore their sense of belonging in the creation of a new temporary mural at one of the city's busiest intersections. What does belonging feel like? Smell like? What is a memory you have of feeling like you belonged? These prompts led to the creation of a community mural to remind us all that we are part of something, and that we are in this together.
This piece is on display in the Foodie Aisle, near the entrance to Scotiabank Arena
Collective Arts Series 25 Gallery Wall
One part craft beer, one part canvas. Two times a year, Collective Arts releases a new series of limited edition beers that they categorize by a numbered series. Series 25 is comprised of artists from across the globe including Anne Martwijit (Thailand), Niels De Jong (The Netherlands), Sergio Guillén (Costa Rica), Marcela De Bettio Tôrres (Brazil), Alexandre Brakha (Japan), Stevie Shao (USA) and Emily May Rose (Canada) to name a few.
This gallery can be found in the hallway connecting the Food Court and Union Market
Find the following projects at Union for Nuit Blanche 2023 on Sep 23 at 7pm to Sep 24 at 7am!
To Be One and Multiple at the Same Time
Artist: Krista Belle Stewart
Deepening her ongoing research into the connections between North America and Europe – and what she has called "the curiosity of Europe" – Krista Belle Stewart presents a photography installation developed from the artist's own journey by ocean liner from the United Kingdom to Canada. In the summer ahead of Nuit Blanche, Stewart travelled across the Atlantic by boat, disembarking in Quebec City and continuing by train to Toronto's Union Station. During the two-week boat journey, Stewart documented her experience and surroundings to inform a new installation for Nuit Blanche. For Nuit Blanche, Stewart intervenes in the banners often hung for advertising purposes on the façade of Union Station. Stewart's banners connect the history of movement and the translation of knowledges across the Atlantic with the westward advancement of the printing press, and the colonial promotion of new worlds and possibilities. The project prompts reflections on the historical and present-day significance of the passage from Europe to North America and on the role of transit and travel in building the colonial nation-state.
This project can be found outside Union Station on the facade banners.
SCCR Presents: Dhis Bulshada
"Dhis Bulshada" is a unique art exhibit that promises to transport audiences on a journey through time, exploring the profound influence of Somali language, culture, art, and music on the vibrant city of Toronto. This exhibit is not just about showcasing ancient artifacts from Somalia dating back 200 years, but also highlighting present-day artistry currently thriving in Toronto. Visitors will have the opportunity to experience an immersive display that seamlessly blends past and present, allowing them to appreciate the rich history and contemporary influence of Somali culture in the city. From traditional clothing to modern-day paintings, photographs, and music, the exhibit offers something for everyone. The concept behind "Dhis Bulshada" is to showcase the intersection of Somali and Toronto cultures, using art as the medium. Audiences can expect stunning visuals, including intricate designs, bold colours, and evocative soundscapes that transport them to another world. Whether you're a lover of art, history, or culture, this exhibit is a must-see for anyone looking to gain a deeper understanding of the role that Somali culture has played in shaping Toronto.
This project can be found in the TD West Carriageway.