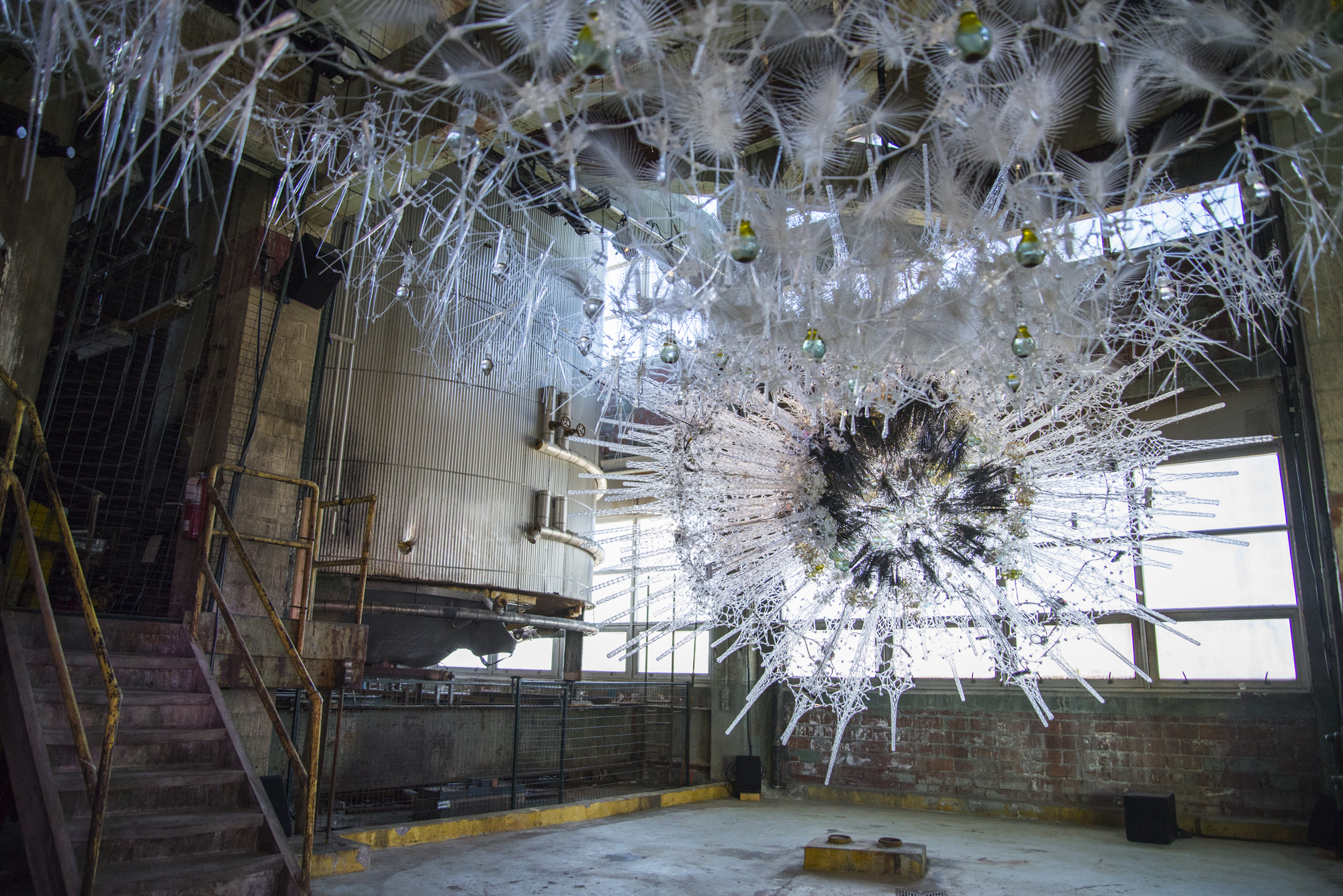 We recently had the opportunity to sit down with Shauna Levy, the President and CEO of the Design Exchange and upcoming panelist at Union Speaks on January 25th (Free tickets are available here). When we thought about a discussion surrounding the transformation of design, programming and transportation in Toronto, we knew Shauna had to be a part of the conversation! Not only does she bring leading international design exhibits and speakers to the DX and oversees yearlong community outreach and educational programs at the museum, in 2017 Shauna spearheaded the creation of EDIT: Expo for Design, Innovation & Technology.
EDIT was truly the "festival of the future" and a perfect example of the type of transformation we'll be discussing next week. From next generation technology on display to a range of exhibitions heralding forward-thinking choices for urban centers, to the fact that the festival took place in an abandoned factory right on the edge of downtown Toronto, it personified transformation.

Union (U): How does the Design Exchange and your programming there lend itself to the evolution of Toronto's downtown core?
Shauna Levy (SL): In 2014, we launched DX Satellite, where we created offsite exhibitions throughout the GTA. We wanted to fill the interstitial moments of a person's day – i.e. to or from work; on your way to a restaurant; or to shop with a cultural experience, because we believe that cultural experience should be integrated into everyday life.
U: What was the inspiration behind EDIT?
SL: We wanted to create a truly immersive and interactive experience that was inclusive and accessible to all people that demonstrated how design, innovation and technology are making the world a better place for all people.
U: What was the most surprising element of hosting the largescale Expo? Particularly in an abandoned building?
SL: We had a hunch that people would be excited about the factory – but the response was absolutely overwhelming. Not only was the location unprecedented and unexpected but it was truly accessible to all people. Unlike a white cube or even a convention centre, here all people felt truly welcome.
U: How did EDIT seek to transform guests' experience of Toronto?
SL: It's important to us that we support and contribute to Toronto's collective efforts to be a world-class city. By creating an event that was centred around innovation and was innovative in and of itself, and by providing a platform for the truly game-changing work being done here, we too helped to draw global attention to Toronto by creating a unique world-class experience for visitors. Because EDIT was so accessible, it provided visitors with an impression of Toronto that was inclusive and innovative.
U: What is an upcoming (announced or in-motion) transformation in Toronto that you are most eagerly anticipating? Why?
SL: The development of the Toronto Portlands. To think that we can create a brand new smart and sustainable city within a major urban centre, is an extremely rare and exciting opportunity.  It means that we have a chance to do things right this time from the outset. If used wisely, the integration of technology and innovation in consultation with a variety of stakeholders will have the capacity to truly create a healthy, sustainable and smart city for all people.
U: In your opinion, what is one of the most significant changes Toronto could make in terms of design, geographical or evolution in transportation?
SL: When you look at the most vibrant cities in the world, all of these things have been considered very carefully. We have to think about all of these as design challenges, as we need a human-centred approach to how we design our city. Toronto is becoming increasingly like New York where only the very wealthy can afford to live in the city while the creative classes, students and immigrants are pushed out. This is a tragedy. We desperately need more affordable housing and mixed-use development. This requires more cooperation between the city and developers. Similarly, without adequate transit, we are handicapping thousands of people from being able to live economically independent lives. I'm encouraged by Mayor Tory's emphasis on transit and only hope that we can speed it up.  Density can be very positive for the evolution and growth of a vibrant and healthy city, but it has to be designed that way. As Jane Jacobs said: "Designing a dream city is easy; rebuilding a living one takes imagination."
U: What are you most looking forward to discussing/debating with your fellow panelists on the 25th?
SL: I'm excited about discussions like these, as they can only move us further forward to becoming the most inclusive, sustainable, and best city we can be. If we truly want this for Toronto, then everybody should play a role in its evolution.
Be sure not to miss the discussion on January 25th as Shauna and fellow panelists; Vanessa McDonald, VP, Brand Strategy and Partnerships from Union, Tyrrell Schmidt, Global Brand and Customer Experience Officer, TD Bank Group, Derek Goring, VP Development for East Harbour, and Salima Rawji, VP Development, Toronto Realty Agency, talk more about EDIT, the Portlands and the way in which we can all assist Toronto's ongoing transformation. Not only that, we'll be hosting free performances by Brenda MacIntyre (Medicine Song Woman), Gurpreet Chana: The Tabla Guy, and Classic Roots!