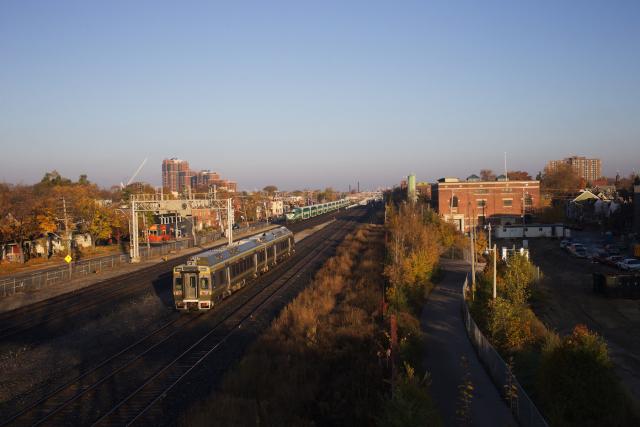 This February at Union we've been exploring the theme of Connection. One of the key connectors at Union is Metrolinx, who offer GO Transport and UP Express services from Union. In her role as Digital Marketing Advisor, with Metrolinx, Annie Runicman creates another valuable connection; between commuters' everyday travel experiences and the online world. We were so excited to speak to Annie about her take on connection at Union.
Union: What does 'connection' mean to you personally?
Annie Runicman: For me, connection is a moment. It can be emotional, physical or mental but it's that moment in time where something just clicks: the 'ah-ha' moment on a tough project, that energizing moment when you connect with a new friend at a cocktail party, or the moment of utter calm when you step onto the platform right as your train rolls up. So many of the simple joys in life are connections.
U: What's your role at Union?
AR: I travel through Union almost every day and am connected to the Station as both a commuter and worker. At Metrolinx, my job is to bring the physical world of GO Transit, UP Express, PRESTO and Metrolinx to the online space and create great customer experiences. Whether it is a new campaign educating potential riders, covering an event for our social media channels or working on new ways to communicate out to the public, Union is at the heart of so much of what we do. Connecting with customers, working with other parts of the organization or simply travelling to and from work, Union Station is a big part of my daily life.
U: With the advent of expanding lines and new services from Union like the UP Express, it feels like we are more connected than ever. What's the furthest destination you've ever travelled from Union?
AR: UP Express won my heart over even before I worked at Metrolinx, when Toronto traffic nearly collapsed my travel plans and the train saved the day. I was headed to Arizona to celebrate with my best girlfriends for our 10-year 'friendiversary'.
A particularly awful rush hour meant I had to abruptly change plans and hop on the train from Union, making my flight with barely 30 minutes to spare (cutting it too close for this plan-lover!)
Even though it isn't the furthest destination I've travelled, it was definitely one of my most important trips.
U: What's something surprising commuters don't know about the transport system they ride daily?
AR: They may be surprised by what really happens 'behind the scenes'. I have developed respect and a keen fascination for the inner workings that make it all 'go' on a daily basis. From the wheels on rails (which are massive and so cool!) to the complex technologies used in planning and communication, there are unique processes and skilled, knowledgeable people here that I previously had no idea existed. It's incredible!
U: What are some unique/overlooked destinations accessible via Union Station? Any favourite recommendations?
AR: As a West-ender I would recommend the rail path and beautiful pedestrian bridge which are accessible from the Bloor GO/UP Express Station, connecting Dundas St. W and Wallace Ave. I often jog with my dog along the rail path in the warmer months and I love walking up and over the tracks on the rail bridge at sunset. It makes for some stunning Instagram shots!
U: What are some of the benefits of Up Express?
AR: To me, a direct connection from the heart of downtown to the Airport is the best thing about UP. The train coming every 15 minutes also creates a stress-free travel experience so you always know the next train isn't far away. Plus, I love the beautiful views on the ride.
U: Can you share any interesting and fun stats about the UP Express?
AR: One of my favourite UP moments was when Prince Edward, Earl of Wessex and Sophie, The Countess of Wessex rode the train from Pearson Airport to Union. It was an exciting day and they were lovely to everyone involved. They were accompanied by the Honourable Elizabeth Dowdeswell, Lieutenant Governor of Ontario and rode with members of the public on the train. A unique experience to witness!
Learn more about transit through Union here.