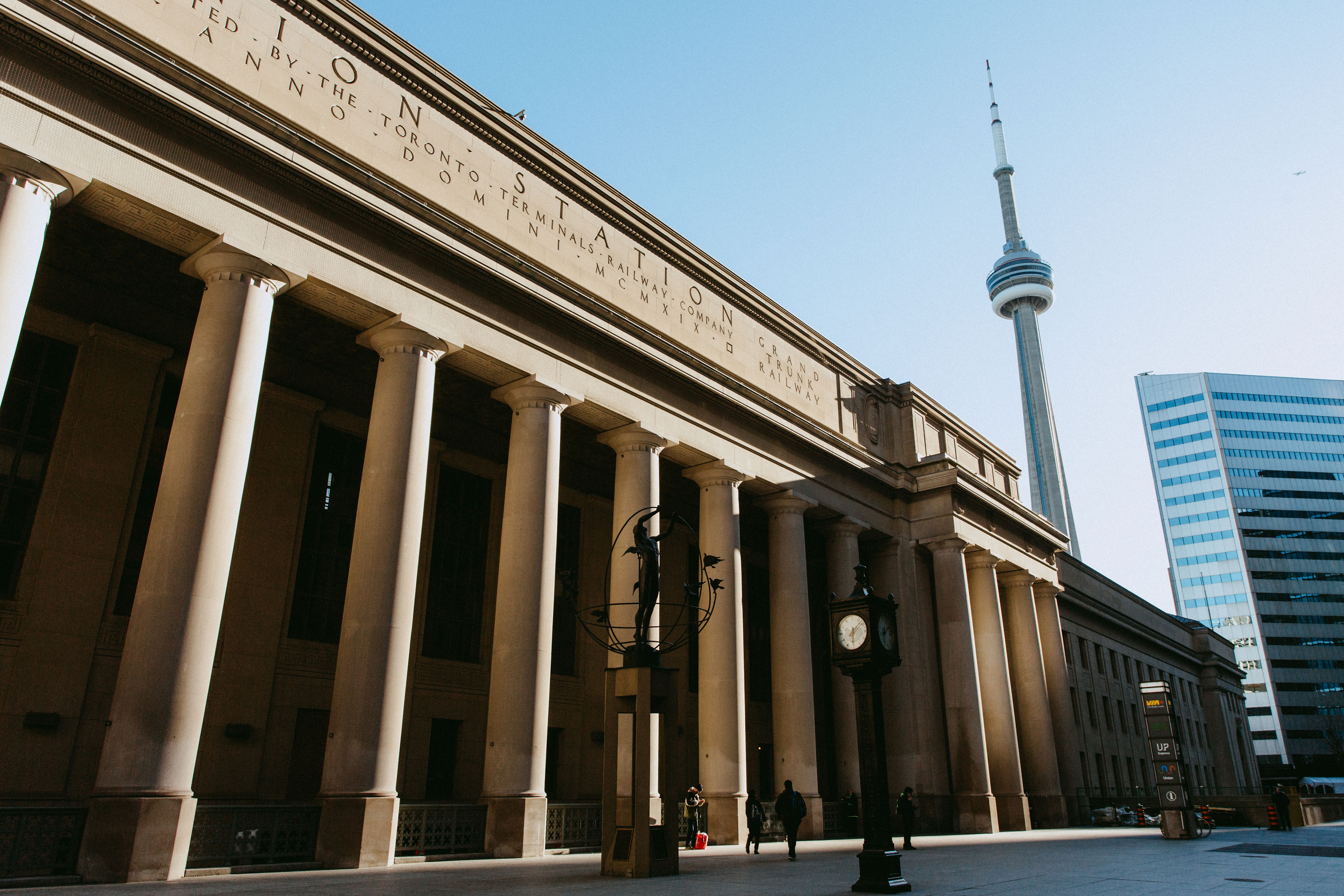 Union Market: Latest Opening in Union Station Revitalization
Union Market will become home to unique and artisanal vendors from across the city
TORONTO, May 9, 2023 – Union is opening the newest addition to their revitalization project – Union Market. space brings a collection of best-in-class food retailers together to create the ultimate culinary shopping experience in the heart of Toronto. will include bakers, florists, grab and go options, and specialty grocery items. Whether you're on your way home via the station or live nearby, Union Market is one of the most convenient locations to fulfill all artisanal food shopping needs.
Union Market will open in phases over the next few months. Phase one, now open, includes The Alley, Lena's Floral Designs, Manotas Organics, My Olive, Chocolatta Brigadeiros, Patties Express and pop-up stores Gemlet and Virtue Vintage. Mid-June, Union Market will welcome Hazukido, #DESI, Kibo and a pop-up concept by Collective Arts. Additional pop-ups and permanent shops will continue to open throughout the year. 
"We're thrilled to continue expanding Union Station and its offerings. Once again, our vision of creating a hub for connectivity in the city is coming to life," said Lawrence Zucker, President & CEO of Osmington. "We hope that people coming into Union get a chance to experience culture and creativity, celebrated in one space."
The launch of Union Market is a significant retail landmark for Union. Over the past few years, Union has opened many new individual shops, food vendors and has created an urban culinary and retail experience through marquee restaurants, local and international brands, curated food options. Union Market marks the biggest undertaking to date. Sitting at 58,000 square ft.; 18,000 square ft., of enhanced common space and 40,000 square ft. of commercial space. The concept was to create a true market experience, alluding to traditional stalls that have been reimagined in a holistic modern community area.
Union Market will also host various arts, cultural and retail programing throughout the year. For the month of May, Union Market will be animated with Union's ongoing DJ program, Union Beats, sponsored by TD. Additionally, sitting at the core of the market is Unionnale sponsored by TD, a permanent art installation as part of ArtworxTO, designed as a special art "alley" that captures colour and artworks inspired by all the neighbourhoods of Toronto. The project is launching with the presentation of Flux, by Esmond Lee.
As part of Union's continuous contemporary programming and ArtworxTO's public art initiative, the art selection in Unionnale will rotate every two years.
"Union Summer and Holiday are such popular events and Union Market has given us the opportunity to create something more permanent for the community", said Syma Shah, Executive Director, Programming and Special Events. "Food, music, art, free programming and ultimately, creating a destination where all feel welcome and represented."
Union Market operating hours: Monday to Sunday 10:30am – 7:30pm.
Full Vendor Information:
Name: The Alley
Description: High quality tea, specializing in beverage aesthetics.
Website: https://www.the-alley.ca/
Socials: https://www.instagram.com/thealley.ca/ https://www.facebook.com/TheAlleyCanada/  
Name: Patties Express
Description: Patties Express specializes in freshly baked flaky textured authentic Jamaican patties.
Website: https://www.pattiesexpress.ca/
Socials: https://www.instagram.com/pattiesexpress
Name: Hazukido
Description: HAZUKIDO insists on the Shokunin spirit of Japan, using only the finest ingredients to make the highest quality croissant. Our croissants are freshly baked on-site daily to ensure the croissants' crispiness and tenderness.
Website: https://www.hazukido.ca/
Socials: https://www.instagram.com/hazukidocanada/ https://www.facebook.com/hazukidocanada/
Name: Kibo
Description: Kibo in Japanese means HOPE. A go-to place for fresh sushi, sashimi and so much more.
Website: https://www.kibosushi.com/
Socials: https://www.instagram.com/ https://www.facebook.com/
Name: Lena's Floral Designs
Description: As a female owned business, Lena's Floral Designs creates arrangements to embellish and elevate your special events according to your personal style and specific needs.
Website: https://www.lenasfloraldesigns.com/
Socials: https://www.instagram.com/lenasfloraldesigns/ https://www.facebook.com/lenasfloraldesigns/
Name: My Olive
Description: Welcome to My Olive where you can enjoy a selection of fresh Premium Olive Oils and naturally aged Balsamic Vinegars.
Website: https://www.myolive.ca/
Socials: https://www.instagram.com/myolivetastingbar/ https://www.facebook.com/myolivepremiumoliveoils/
Name: Manotas Organics
Description: Manotas is a new proposition of Organic, Vegan, traditional, and very healthy Spanish and Latin American foods and ingredients. Our foods and ingredients are all specialties mainly from Spain, Mexico and South America.
Website: https://manotasfoods.com/
Socials: https://www.instagram.com/manotaslatinfoods/ https://www.facebook.com/manotaslatinfoods https://twitter.com/manotasorganics
Name: #DESI
Description: #DESI is a South Asian Marketplace that offers Traditional and Fusion food along with spices, handicraft and herbal products.
Name: Chocollata Brigadeiros
Description: Chocollata Brigadeiros is a unique and delicious business in Toronto that specializes in gourmet Brigadeiros, described as a cross between a truffle, caramel and fudge.
Website: https://www.chocollata.com/
Socials: https://www.instagram.com/chocollatagourmet https://www.facebook.com/chocollatagourmet
About Union Station
In 2009, Osmington (Union Station) Inc., a subsidiary of Osmington Inc., entered into an agreement with
the City of Toronto to become the retail developer of Union Station pursuant to a 75-year head lease. With
300,000 daily visitors, Union Station is Canada's busiest transit hub. Through its curation of retail and
culinary tenants, cultural programming and partnership activations, Union strives to be one of the world's
most engaging civic experiences. www.torontounion.ca | Follow us on social @torontounion